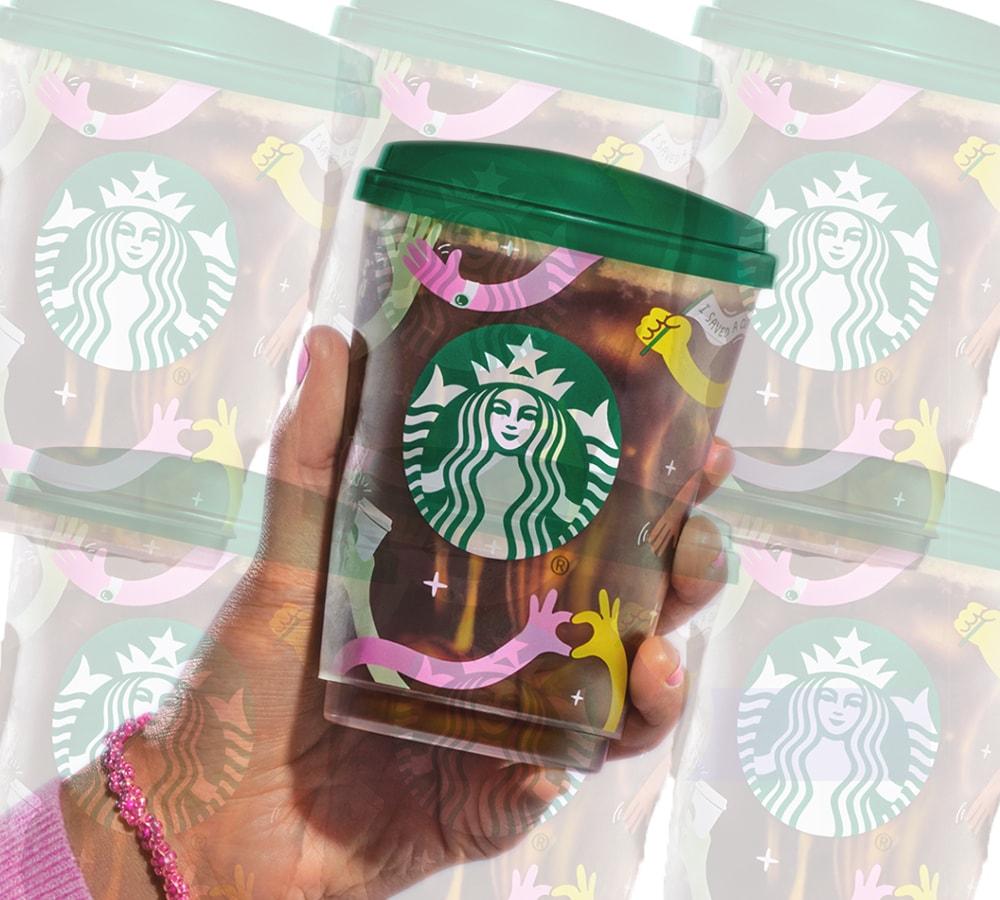 Why cheap reusables cost the earth 
May 24, 2023
4 min(s) read
In April 2023 Starbucks gave away almost 70,000 "reusable cups" to customers. They did the same thing back in 2011 with a similar pledge about reuse that was not continued beyond the initial giveaway. They are similar to the £1 cups they've trialled in their returnable cup initiative, but with a more heavyweight design, much like the difference between heavyweight and lightweight single-use bags. KeepCup was founded to tackle single-use plastic, so you'd think we'd applaud any move that encourages people to ditch disposables. But are cheap reusables - as giveaways or part of loan schemes - shifting behaviour toward reuse, or just a heavier disposable?
Less is more
Our theory of change is that reuse means owning fewer, high-quality things. The design of our new cup-to-bottle Helix Kit was centred on this idea – no longer do you have to carry a separate reusable cup and bottle. If you've invested in a high-quality product like a KeepCup, you're more likely to wash your cup, remember it when you leave the house and build a reuse habit. Low-quality reusables that require little (or no investment, if free) are less likely to be used, washed and reused, and are more likely to face the same fate as a disposable – landfill.
The limitations of loan schemes
£1 won't break convenience culture.
If you paid a £1 deposit on a cup that's part of a loan scheme, are you likely to go to the effort of returning it to be reused? We are all for making it easier for people to reuse, but when the barrier is so low, there is a risk that you don't shift the behaviour. Instead, it's still viewed as single use and it never makes its way back into the circular system it was designed for.
It exposes the logic failure of the return scheme in open environments. Single-use cups were created so customers could take them away from premises where they're purchased, so it doesn't really make sense that you would bring a dirty loan cup back to be washed and reused.
If you've invested in a high-quality product like a KeepCup, you're more likely to wash your cup, remember it when you leave the house and build a reuse habit.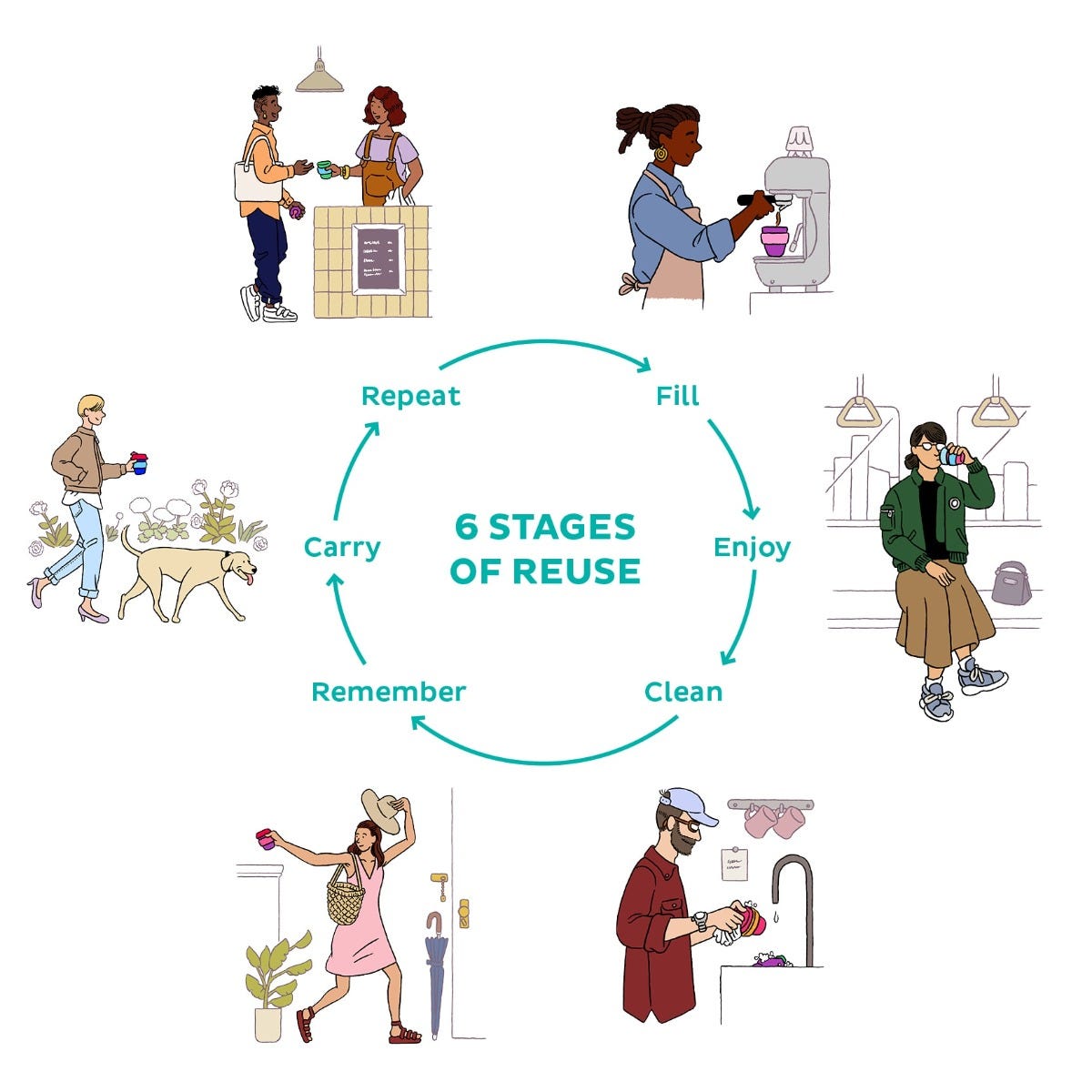 The impact of cheap reusables
KeepCups are made to last. We select materials for their durability and our products are designed to be modular, so you replace the part, not the product. We modelled the impact of a similar cup to the Starbucks free cup in our Life Cycle Analysis, which provides data on the environmental footprint of our products from cradle to grave. We used a conservative 30 uses in our modelling. As you can see in the figure below, the cheap reusables (PP) have the largest carbon footprint over a year of light use, as you're essentially investing in a new reusable every 30 days. KeepCups are made to last between 4-8 years, depending on the product and use rate. Some of our customers even have OG KeepCups that are 10 years old and still going strong.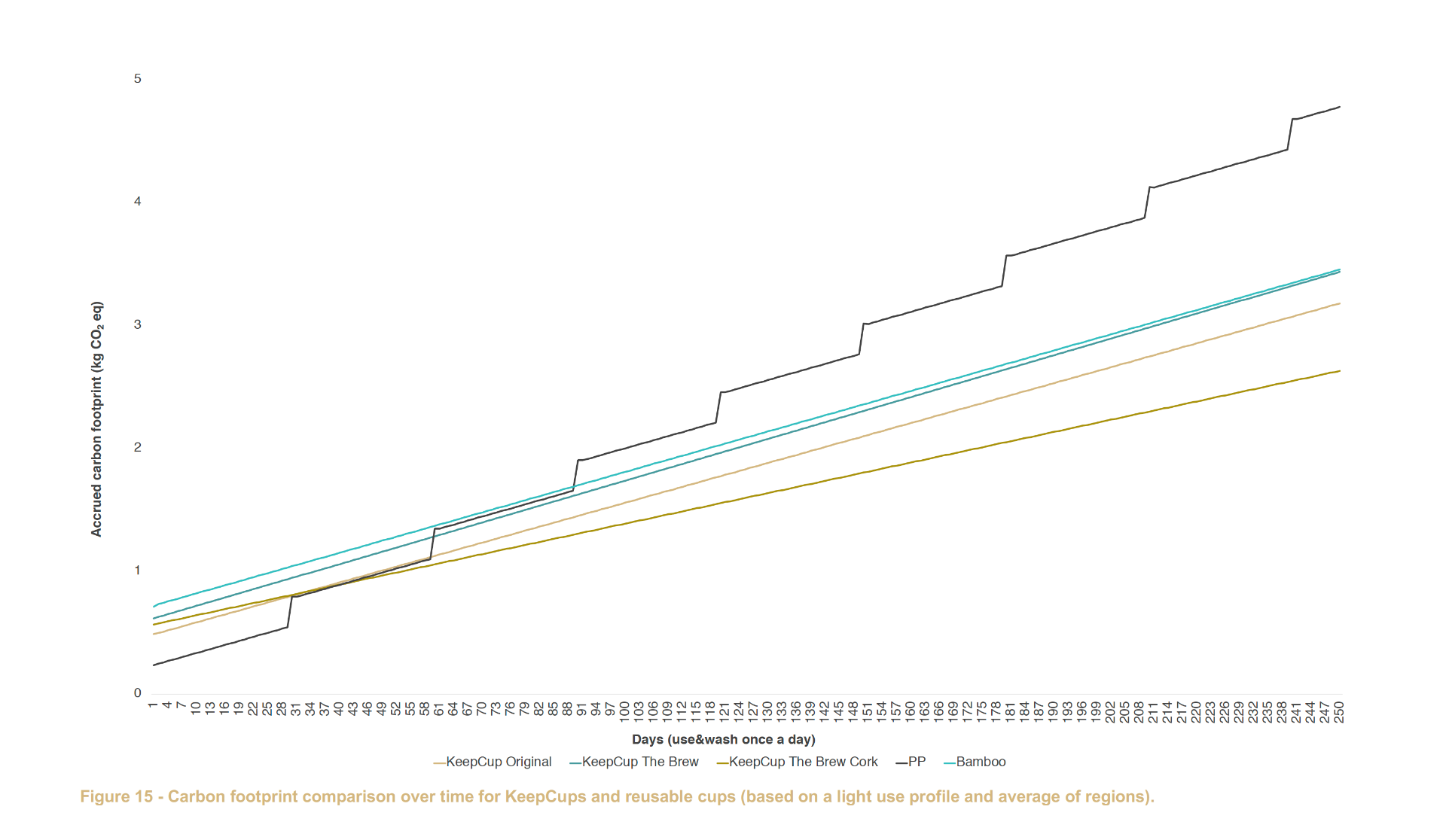 Shifting the dial
We recognise there are multiple solutions to the single-use problem. We've been a long-term partner of the Glasgow Coffee Festival to make it disposable free, offering loan cups to those who don't have their own. Returnable schemes can work well in closed venues. But we still believe individual ownership is the pressure that makes the diamond: legislation. At that point we have a level playing field that will provoke a charge on damaging, single-use cups. That's what will shift - force - behaviour at the scale we need, as we're beginning to see with plastic bags. Not empty marketing campaigns and unworkable schemes that make us feel better but - in reality - end up costing the earth.