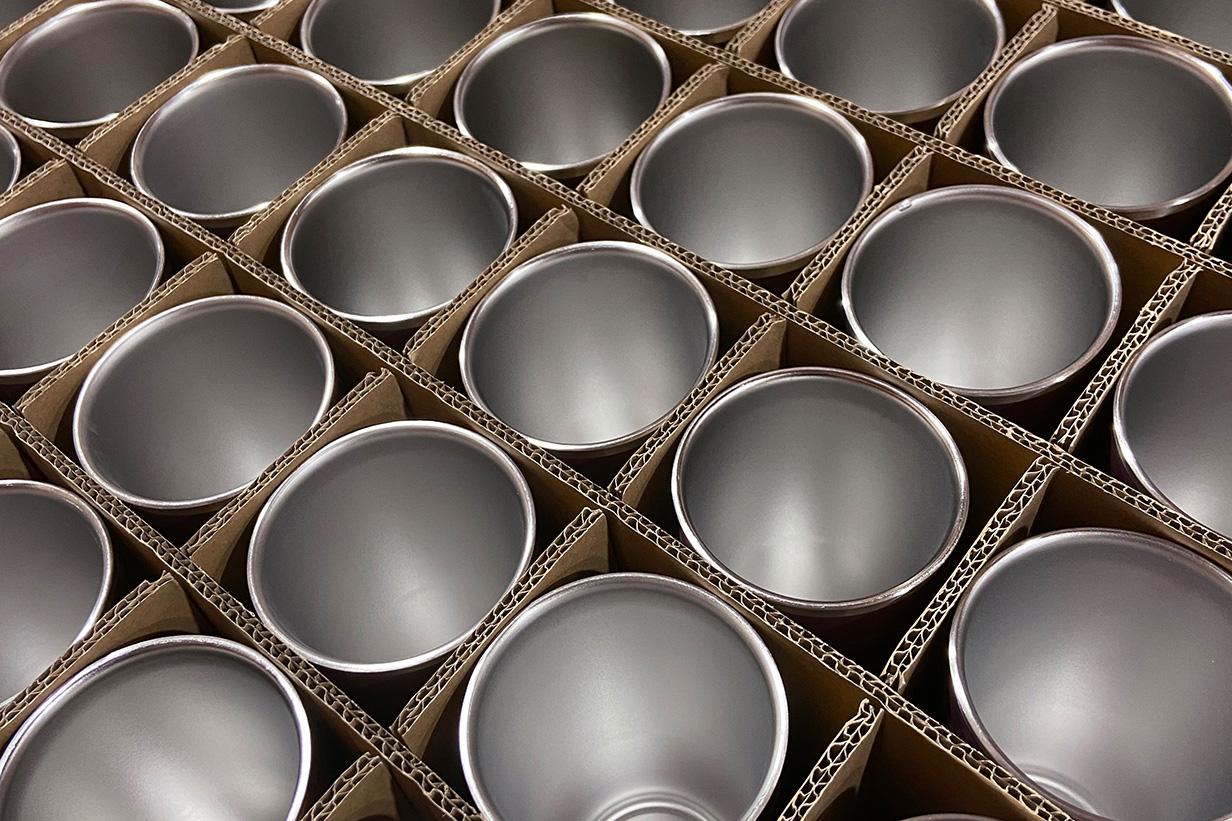 Not the full package
May 17, 2021
4 min(s) read
Reducing problematic and unnecessary waste is why we're in business. In 2019 we voluntarily joined the Australian Packaging Covenant Organisation (APCO), committing us to report annually on our packaging impact and progress as well as actionable improvements.
Our first report ranked us as operating "beyond best practice."
This month we've become founding members of the ANZPAC Plastic Pact initiative. Launching May 18th, ANZPAC is a regional collaboration across Australia, New Zealand and the Pacific Islands which is connected to the Ellen MacArthur Foundation's global Plastics Pact network.
Although we don't use plastic in our any of retail or bulk packaging – we joined ANZPAC so that we could continue our advocacy on three key points:
Drawing industry focus towards reuse
Reducing consumption
Extended producer responsibility – placing the onus for waste clean-up back on those who produce it.
Vision-setting for real reduction
ANZPAC unites key regional players to work together to create a roadmap for delivering on its four key targets by 2025:
Eliminate unnecessary and problematic plastic packaging through redesign, innovation and alternative (reuse) delivery models.
100% of plastic packaging to be reusable, recyclable or compostable.
Increase current volume of plastic packaging collected and effectively recycled by at least 25% for each geography within ANZPAC region.
Increase the recycled content in plastic packaging across the region to an average of 25%.
These are fine goals – but there's an elephant in the room.
Industry must act decisively and commit to reducing the overall volume of plastic produced and consumed.
There's no other way to cut it. Even in a best-case scenario, plastic can only be recycled 3-4 times, so reducing the the sheer amount of material must be the overriding objective.
It is implicit in the definition in the International Plastics Pact, not only that there is individual supplier responsibility, but that a system must be developed that enables what is recyclable to actually be recycled at scale.
As you might expect there are a number of very large businesses that dominate these voluntary groups, like Coca Cola Amatil who produce 120 billion (billion!) single-use plastic bottles every year.
What are the facts?
Coca Cola produces over 3,800 plastic bottles a second.
Nestle makes 1.3 million tonnes of throwaway plastic packaging a year.
Pepsi has 0% reusable plastic packaging.
Over 50% of all plastic produced is for single-use packaging
Only 9% of plastic produced in human history has ever been recycled
"Recycling" as an overall objective validates waste and does not demand the sort of changes required to transition to the circular economy. Redesign, reuse and refill, product stewardship and the essential systems change demanded through reuse models.
The APCO Packaging Material Flow Analysis 2018 report showed a plastic packaging recovery rate of only 32% - the rest ending up either in landfill or our oceans and waterways. Importantly, from that 32% only 14% is then locally utilised (recycled). Current benchmarking released in January this year has seen the volume of plastic packaging recovered and effectively recycled increase to just 18%.
Few inroads have been made and significant national reforms and tougher interventions are required.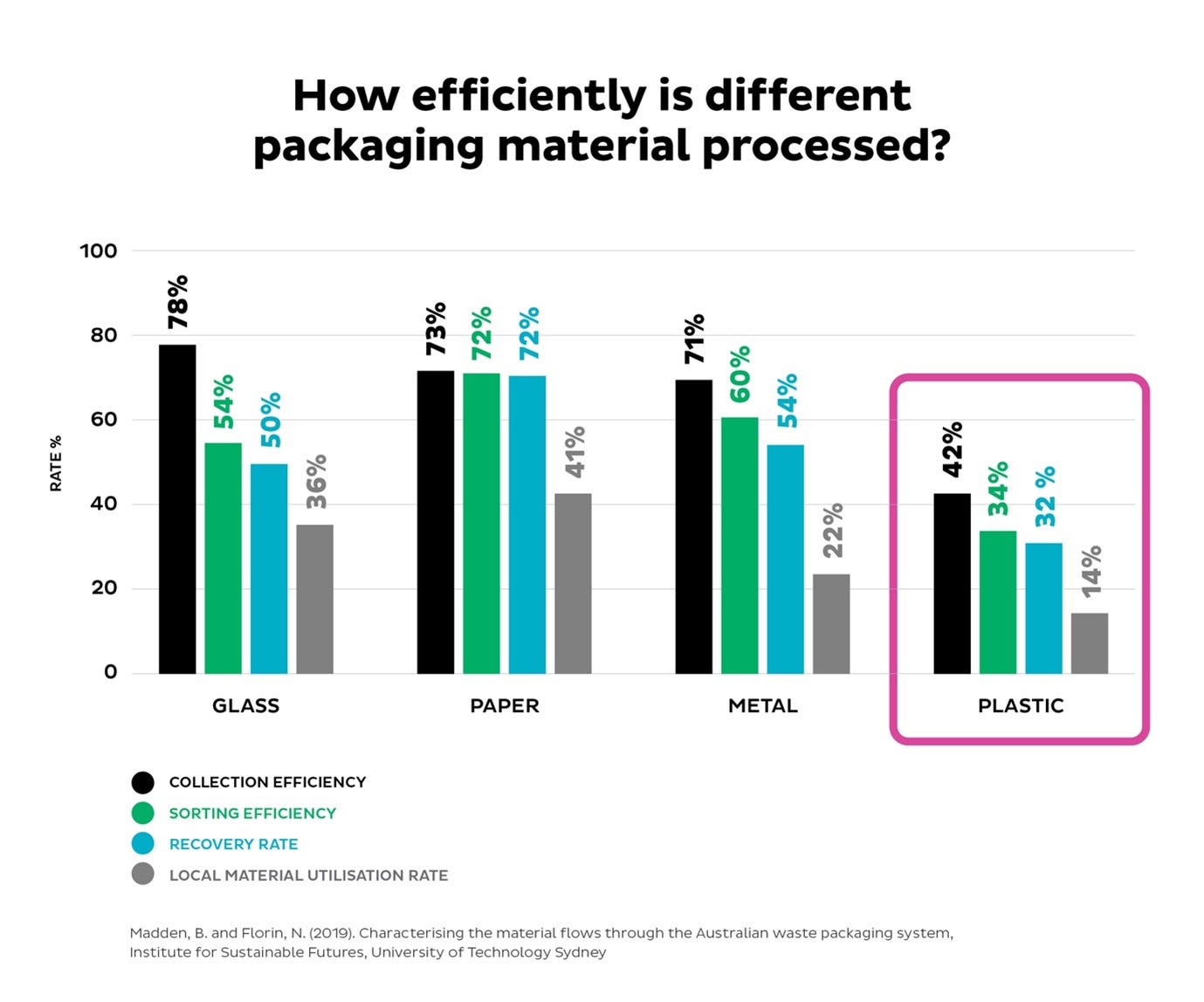 Rates for glass and metal are significantly higher, both in practice and from a materiality point of view (remember: plastic can be reused only 3-4 times) and yet the supermarket shelf seems to be rapidly transitioning to plastic, at a time when many councils are providing separate collection for glass.
The full package
Under the current definitions and perspectives of groups like APCO and ANZPAC, unnecessary single use packaging items must only be reported on if they are sold as part of something- a ready to eat salad with a single-use plastic fork, a juice box with a single use plastic straw – but not when they are sold as "products". Single-use cups sold as a product are not considered reportable but when talking about the transition to reuse, suddenly KeepCup is considered a reusable package.
It's important also to unpack what is meant by "recycled." When we think of recycling, most of us are thinking about post-consumer waste - products recovered from household bins.
What we can't allow is for definitions to include the commercial waste of products that have not passed QC on the production line. Reusing manufacturing waste is not recycling, it's simply efficient manufacturing - utilising factory waste and saving costs by feeding it back into production or sending it out to a reprocessor for pelletising.
The most effective way around this sort of practice is to set post-consumer waste volume targets by material, that way we are innovating around a common purpose, rather than accepting industry manufacture waste.
When we talk about circular economy, it's not about recycling or composting. It's about designing out waste from products and services to reverse the reality of our linear/landfill based global economy through, reduction, reuse and repair.
We cannot transform our society and make the necessary changes by pulling punches. A step in the right direction is great – but it's time for a bold leap. Hit them hard and we'll be right behind you.